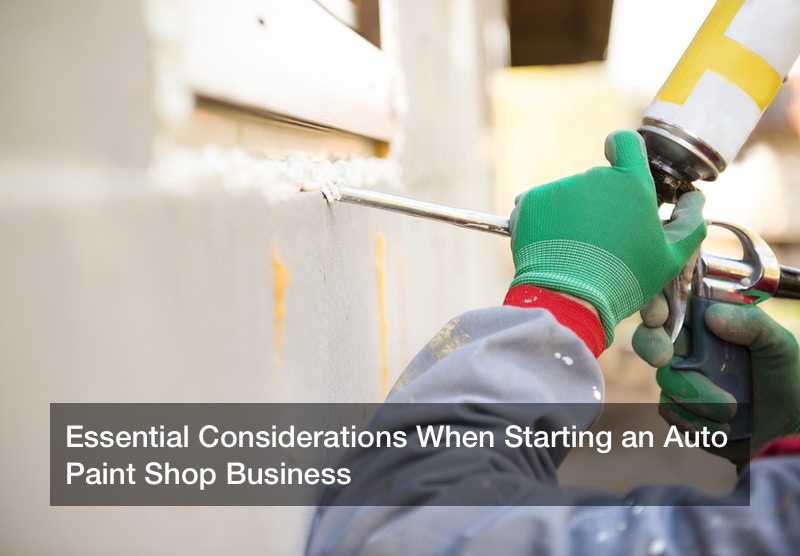 Essential Considerations When Starting an Auto Paint Shop Business

As long as cars are on the road, accidents will be part and parcel of transport. Not to sound opportunistic, but that a good business idea especially if you enjoy cars and love to make them better. Starting an auto paint shop is a good way to turn your passion for cars into a thriving business venture — that helps to restore vehicle condition to a premium state. See, it a win-win situation.

While there's all possibility of running a successful car paint and body shop, you may want to consider operating under a franchise and take advantage of its established reputation, image, and experience. These are just some of the things people look for when choosing a car paint shop for their repair needs.

If you decide to run it as an independent entity and not a franchise, come up with a detailed business plan of how you intended to finance, market, and manage what you want to become a successful business. The requirements for starting an auto body shop include:

Register business as a legal entity

Determine the legal structure of your business. Is it a sole proprietorship, partnership, limited liability company (LLC) or corporation? Because of the nature of expensive vehicles you will be working on, you need strong financial muscle to avoid suffering personal liabilities.

This is common to a sole proprietorship or simple partnership business entity. Also, business licenses and permits are a requisite for anyone looking to start a business and run it professionally. Therefore, you need to obtain the necessary documents from your state and local governments.

Financing your business

After laying the legal structure in place, the next step is to finance the business. This can be achieved through several ways including seeking loans from banks and other financial lenders, or inviting investors to buy shares into your company.

Lenders type of financing acts as a debt that has to be paid back with some understanding between the parties involved. It attracts interests and payable within a specified period of time. The other type of business financing is through investors, who buy a certain percentage of your business and enjoy agreeable future profits.

If you are starting a car paint shop, one effective and common source of financing would be a partnership. Here you come in as the general manager while the other party serves under a limited partnership. As a general manager, you are responsible for all operational, financial risks, and every other liabilities of the partnership. The limited partner only enjoys the profit with minimum to no responsibility.

Choosing an ideal business location

Finding the right address for your business is key to a successful business. You want a place that is highly visible and easily accessible to customers from busy streets and shopping centers. Set up your business premises including the working bay, waiting lounges, and an administration front office. Also, have ample parking space.

Invest in correct equipment

One of the most important things people look for when choosing a professional auto paint shop is their service. This means the equipment and repair technology in use to reverse the effects of auto damage and accidents. So, buy high-quality auto painting equipment as well as removal and body repair equipment to fix minor body dents.

Once you setup and become operational, it's time to promote your business. This can involve several marketing approaches like placing ads on websites, radios, billboards or local newspapers. You can also use brochures and leaflets for more direct marketing within your area. You can also open a business website that is effective in running targeted marketing campaigns. Finally, ensure you have proper waste disposal methods of getting rid of leftover paints, solvents and other hazardous materials.