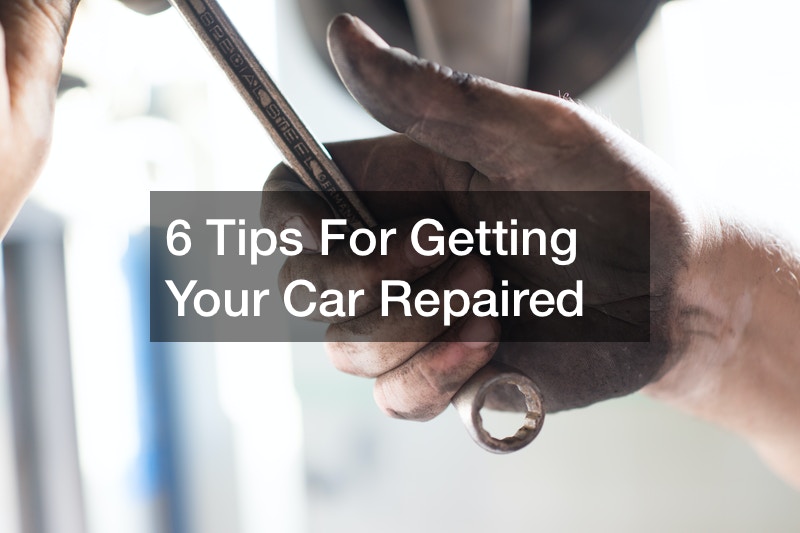 6 Tips For Getting Your Car Repaired

Once you get used to driving around in your car, having car problems can be a big inconvenience. The frustration that comes with your car breaking down at the wrong time is immeasurable. However, just like many manufactured things, cars tend to break down from time to time and, unfortunately, when least expected. When your car breaks down, you need to analyze whether it is an issue you can handle or whether to take it to the repair shop. It is important to know the fundamentals of your car before visiting the auto repair shop to prevent spending huge amounts on issues you could have handled. If you have ever found yourself in car problems and did not know how to go about it, keep it here as we have compiled top car repair tips and advice to help you find your way.
Before getting your car repaired, you need to know when the right time to take it to the repair shop is. As already discussed, you do not need to visit the car repair shop for every car problem. Below are some scenarios to help you make the right decision.
When Maintenance Costs Are Getting Expensive
If your monthly car maintenance costs are through the roof, there must be something wrong with your car. You need to consult your mechanic to help you diagnose any problems before they get any worse and costlier for you. Your mechanic has the best car repair tips and advice and will let you know when your car is due for a repair.
When Your Safety is Compromised
Even the best-maintained cars tend to wear out eventually. Evaluate your time while driving and note any safety concerns. Are your brakes responding promptly? Does your car have stability while on the road? Are you able to accelerate and decelerate with ease? If you have any concerns regarding your safety, you need to consult your mechanic for car repair tips and advice. Safety concerns are valid as you risk your life and other road users by driving an unroadworthy car.
When You Are Using Too Much Fuel
Everyone wants to get their money's worth. If your car is consuming too much fuel for less mileage, it might be time to visit the mechanic. If your car is not fuel-efficient, there is a possibility something is wrong and needs to be checked.
Dashboard Warning Lights
When you see flashing lights on your dashboard, this is a sign to visit a professional. Unfortunately, it can be difficult to tell whether it is a minor or major problem when these lights start to flash. To avoid any major problems, you need to visit a professional. The mechanic will help you with car repair tips and advice you can use in the future when faced with a similar problem.
Strange Sounds or Smells
Any unusual sounds from inside or outside your car are enough to cause concern. If you smell any strange smells or hear any squealing or creaking sounds, you need to visit your local auto repair shop. Sounds could come from your brakes, wheels, or exhaust. Anything unusual such as a change in color of fumes, excess exhaust, or increasing temperatures should all be cause for alarm. You should take this opportunity to get car repair tips and advice from your mechanic.
You can detect transmission problems in various ways. If you have problems changing gears, delays in starting the engine and when moving, something could be wrong with the transmission. You need to address such problems immediately because if left unattended, a need may arise for a very costly replacement.
Leaking Fluids
Before you get in your car, make it a habit to check around where you have parked. Observe whether there are any leaks. Check whether it is normal dripping, as during summertime cars tend to drip water, which is perfectly normal. However, if you spot any colored fluids such as the coolant or brake fluid leaking, you may need to visit the mechanic to check it out.
Engine Changes
The engine is the most critical part of your car. Make sure you pay close attention to how it behaves. If you notice excessive shaking or chugging, act promptly and have it checked. Engine repairs can be costly but an engine replacement is costlier. You, therefore, want to address any problems before they worsen. Once you have established that your car needs repair, you need to find a reliable auto repair car shop.
Factors to Consider when Selecting an Auto Repair Shop
Your car is a valuable possession, so you want to ensure it is being handled by the right people. Your mechanic should possess certification from a nationally recognized body in your country. Certification ensures they have attained the right qualifications and skills to handle repair jobs. Leaving your repairs to uncertified mechanics could end up badly for you and your car. You can easily verify the certifications online as well as check reviews of their services.
Services
Car problems could be either mechanical or electrical. Make sure you have done your due diligence and that your chosen auto repair shop offers the kind of services you are looking for. Many auto repair shops can offer general car repair tips and advice, but not all are up-to-date with the necessary training and skills to handle select repair jobs. A minority business enterprise is likely to handle routine repair tasks, but if you are looking for a full auto body repair that deals with disassembling and assembling your vehicle, you may want to check out established businesses for a comprehensive repair job.
Costs
Different auto repair shops have different costs for their services. It is important to get an estimate from various mechanics before you commit to one. Car repairs can be expensive, so you want to make sure you are getting your money's worth.
Tips to Getting Your Car Repaired
Before you decide to take your car to the repair shop, make sure that you have attempted to solve all the simple problems. Some problems can be easily sorted by going through your manual and finding quick solutions. You can perform some easy functions, such as changing engine oil, changing your tires, and car batteries. If you have tried everything in your manual and the car is still giving you problems, you need to visit a car mechanic for car repair tips and advice.
Get in touch with your insurance
Depending on the cause of repair, you may need to contact your insurance. If it was an accident, your insurance company is liable to compensate you or issue you with a car for rent while yours is taken to the auto body shop. Your insurance will help you cover damage costs and potentially save you on huge out-of-pocket repairs. Getting yourself a personal injury attorney at this stage will also help you navigate through the processes of getting your car repaired, filing a suit claim, and getting you the insurance benefits you deserve. However, for routine repairs, you need to take care of the costs yourself by consulting a professional car repair service.
Observe excellent communication
Communication is a two-way street when it comes to car repair. It is normal to feel intimidated when consulting a mechanic if you have little to no knowledge of how cars work. It is for this reason that you should communicate to your mechanic the symptoms your vehicle is exhibiting for proper diagnosis. It is common for people to hide some information such as when the car was last serviced to avoid higher costs, but it's best to be honest about proper diagnosis. Effective communication is critical, especially if you want your car problems solved. It also helps your mechanic give you the best car repair tips and advice for your car problems. If you notice some hesitation in your mechanic to explain a few things, you need to reconsider the auto repair shop to avoid dealing with a dishonest or fraudulent mechanic. Make a list of all the abnormal things and describe in detail what has happened. Do not be afraid to ask additional questions that you do not understand to make sure you are both on the same page. After all, you visited the mechanic for car repair tips and advice, so make sure you use this opportunity to ask as many questions as you please.
Keep Your Records
All the maintenance and servicing you do on your car will come in handy when doing a repair job. Well-kept records are crucial in the proper diagnosis of your car. An auto body repairman will look into the history of your car and quickly diagnose the problem. In addition, having records could get you a discount on repair services as a lot of tests will have already been performed. You save a lot of time and money by keeping records to prevent redundant repairs. Records are great for getting you an affordable insurance plan for your car. Insurers tend to customize your insurance plan based on how you treat your car. If you are a careless driver with frequent maintenance visits to the auto repair shop, your insurance plan is likely to be costly. However, if you take good care of your car, you will also benefit from paying lower premiums for your car insurance. Records also help your mechanic to give you expert car repair tips and advice on how to keep your vehicle in tip-top shape and avoid frequent visits.
Request Original Manufacturer Spare Parts
If your car has been diagnosed and is scheduled for a repair, always ask whether the mechanic will be making replacements. Whenever parts need replacement, the mechanic can use new or recycled auto parts. Whichever the case, always insist on original manufacturer spare parts rather than generic ones. Maintaining the same specifications of the original manufacturer guarantees you that your car will continue performing optimally. Generic spare parts can be a great price allure for most people, but consider the value of your car and the longevity of service you would like to receive from your car.
Do a Test Drive
Once you pick your car from the auto repair shop, take it for a test drive, and see whether you can register any changes. Can your car still pass through your garage doors? Is the squealing sound still present? Also, make sure you get a clear account of what was wrong with your car, how it was fixed, and the corresponding amount. If any replacements are made, ensure they are invoiced as well. This information is crucial for both you and your insurance company if the case was an accident. You will be able to keep records for your next check-up or if a similar problem occurs in the future. For your insurance company, you will need to present a breakdown of the costs for them to cover the repair expenses. Do not hesitate to question anything you do not understand at this stage because once you leave the auto repair shop, it could be difficult to complain later.
Car repairs can be costly, so you want to ensure you take care of them early enough. If you notice any unusual sounds or smells, it is best to consult the professionals before things escalate and become an oddly expensive affair. With the few tips outlined, you are well equipped to know when to take your car to the auto repair shop, what to expect and how to go about your car repair the right way. Remember, the goal is to get an invaluable service for your valuable car without denting your pockets.