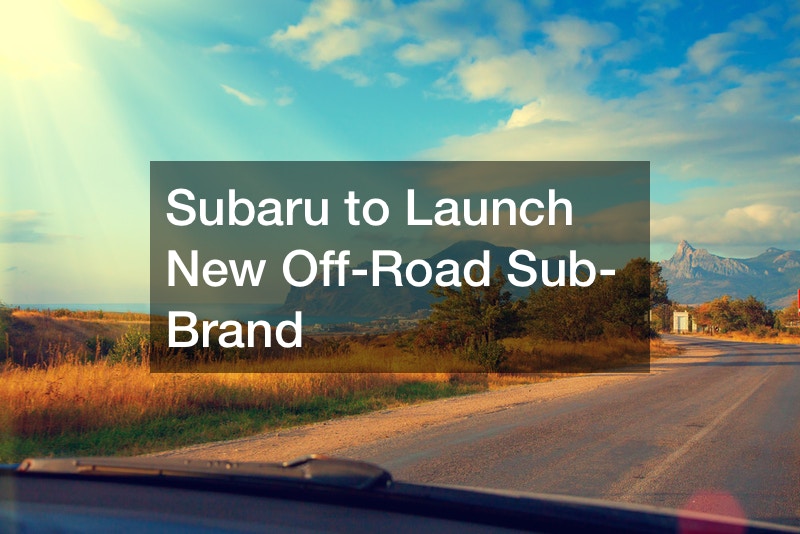 Subaru to Launch New Off-Road Sub-Brand

When you think about Subaru off road models, it's not really difficult to imagine one of their cars somewhere out there in the dirt and gravel, in what should be its natural element. Subaru has always had this 'bounce down a rocky, dry gulch' appeal to it. Well, now it seems all those visualizations might just come true, and Subaru fanatics might be digging into muddy fire trails somewhere in the mountains with their Subaru off road models sooner than we imagined.
Subaru having a new off-road brand is the closest thing a car can get to living up to its image. Wouldn't it be a blast to set your Subaru off road models free from the crowded office parks and bolt for the trails? The answer is probably a resounding yes.
Speculation about Subaru's Wilderness sub-brand abounds. Wally Sommers, president of Sommers Subaru, spoke to Automotive News and hinted that Subaru's Wilderness sub-brand will add some extra capabilities to the Subaru off road models, and also amplify the off-roading look. He indicated that the exterior might receive a more aggressive facelift. For instance, the plan is to give the cars updated headlights and give the interior a more robust aesthetic.
These elite cars will feature new bumpers, an off-road suspension, all-terrain tires, plastic cladding, and all-wheel drive as standard. We are not sure about the engine transmission options that will be available, but you can expect the Outback's new turbocharged 260hp 2.4L boxer-four and CVT to show up in there somewhere.
Could Wilderness Be the Next Big Thing in Off-Roading?
One of the most important things you need to gain traction off-road is to utilize a good set of all-terrain or tires. They specially designed these tires to grip surfaces like rocks, sand, rocks, wet grass, and mud. On the other hand, regular road tires are made to grip pavements. With the right tires, it will be easier for an off-road vehicle to gain traction while braking and cornering. That's a plus on Subaru's side.
Subaru off road models are expected to come with all terrain tires, which means we will expect them to handle all this off-road functionality exceptionally well. All terrain tires offer excellent grip off-road. They also remain considerably well-mannered on-road, too.
Another feature that is essential for a car to handle the outdoors well is four-wheel drive. This is a feature that will take advantage of the grip offered by the tires. When a car has a good grip, its front and rear tires need to spin at different velocities when the car goes around corners. If you switch to four-wheel drive, the car's engine system stops the differential that allows those front and back tires to spin at different speeds.
The tires will therefore start spinning at the same speed, which will increase the car's ability to take advantage of the grip offered by the tires. The Subaru off road models will come equipped with this functionality since they are all-wheel-driven.
What Is an All-Wheel-Drive, and How Will It Make Subaru's Vehicles Superior?
Years ago, when the AWD was invented, not many people knew what it meant. There's a very simple explanation to how it works, and how it differs from the regular old four-wheel drive. If you buy a used Subaru Outback, you will see that it comes with this feature as most people don't know how it works.
When driving a car, torque follows the path with the least amount of resistance. In an AWD vehicle that has three totally open differentials, the torque will be sent to the fastest spinning wheel. The faster spinning wheel has lesser grip, therefore lesser resistance. In most cases, that will be the wheel that's stuck in the sand or mud. That's obviously not going to be very helpful to get the car out of that situation.
To counter this, the Subaru off road models come with a central differential that can achieve some lock. When the wheels are locked, power will then be directed to both axles, not just to the wheel with least resistance. Other cars will also feature an axle differential as well. It can increase the locking ability, which further boosts the car's ability to take advantage of all its tires.
Essentially, tires have the greatest potential to boost a vehicle's ability to handle off-road driving. The AWD aims to take advantage of that and enables the car to easily get out of sandy or muddy situations. We can therefore say that to some degree, Subaru's off-road vehicle will compete with the industry leaders.
Lifted Suspension
There are reports that the Subaru off road models will come with a lifted suspension and better wheel alignment. The real question is, does ground clearance notably improve a car's outdoor performance notably? Well, the answer is not that simple. Most outdoor enthusiasts agree that ground clearance is important when you are going off-roading adventures like river crossings or off the beaten track.
You can check your car's ground clearance by parking it on a flat surface, like a concrete driveway. From there, it's as simple as measuring the distance between that platform and the lowest part of your car.
Increasing a car's ground clearance is a trade-off between practicality and performance. With a car that has a higher clearance, you will maneuver the rougher terrains with much ease and you will avoid scraping critical auto parts against the ground. Unfortunately, this comes at the cost of better aerodynamics. Since your car's center of gravity will be higher, you will have lesser aerodynamics than lower cars.
But then again, aerodynamics and on-the-limit handling are not very important when it comes to outdoor cars. What's more important is the ability to explore the great outdoors easily. If your goal is to drive along mud ruts and sail the sands with your vehicle, you would need as much clearance as you can. That means that it's probably a good idea for the Subaru Wilderness to have a higher clearance. After all, the principal aim is to have it stand out as a great outdoor car.
You should note, however, that there's more to ground clearance than how far a car is up in the air. The vehicle's angles also play a huge role in determining its off-road capabilities. This means its angle of approach, departure and ramp over are crucial as well. Unfortunately, none of this is known about the Subaru Wilderness yet, so we are left to speculate.
In an ideal world, an outdoor vehicle should have a good level of ground clearance, something above 220mm, good approach angles, departure and ramp over together with a decent articulation. We hope the Subaru Wilderness will come equipped with a good balance of these features.
Which Cars Will Be the First to Receive Wilderness Trimmings?
At the moment it seems like both the Forester and the Outback are going to be the first Subaru off road models to receive wilderness upgrades. The cars will come with lifted suspensions, skid plates, underbody armoring, all-terrain tires and added body cladding. It is also expected that these editions will feature extra terrain modes on the brand's standard X-Mode system.
Of course, each edition should also be fitted with a much-needed lifestyle accouterment. Chances are that it might even come with some sort of rooftop tent mounting system. If the brand decides to go all out, you might even see a weather-friendly interior and more storage compartments. It is also expected that Subaru's accessory catalogs will overflow with Wilderness-branded gear as soon as the Subaru off road models are launched.
The Outback – Wilderness Version
The Subaru Outback Wilderness Edition is most likely the most impressive of the new releases. It is rumored that the car will be released on the 30th of March.
What can we expect? A teaser image that has been circulating shows black alloy wheels that are wrapped in meaty Yokohama Geolandar A/T G015s. These are chunkier versions of all terrain tires that strike a delicate balance between daily-driver comfort and dry off-road capabilities. While they are better than the regular crossover tires, they are no match for the Goodrich KO2s. At the moment these tires have set a good tone for what we might expect from the car. As opposed to hardcore trail work, this car will more likely be suitable for someone wanting to enjoy a bit of outdoor recreation.
Subaru Forester – Wilderness Edition
The rumored Forester Wilderness trim also features rugged design elements, as seen in a recent test car. While this is still a hypothesis, some auto spies have leaked a product planning sheet that features details of some of Subaru's Wilderness-Forester.
The spy photos available feature a Forester with camouflage auto body paint and this just hints that we might see some light updates for the brand's hot-selling crossover. The item that's not entirely covered in the spy photos is the grille. Instead of the slats that are available on the current Forester, the one in the photos has a honeycomb design that resembles those on an Audi Sport.
This will be a good departure from the boring and timid face of the current forester. While this obviously won't improve the car's performance, the look alone will add some attitude on the car's front end. The camouflage in the pictures covers the entire front section of the car. It also seems like the Forester will get a brand new front bumper and a modified fog light design in its corners. From the looks of things, the fog lights don't seem like they are production types.
The pictures are not very clear, but it seems like Subaru will add some larger black plastic cladding onto the Forester's fenders and lower door area. These raised sections of camouflage seem larger than they are on the old Forester, and they also look a bit more square. This, if true, will give the Forester a more rugged look, which is what most outdoor enthusiasts might want.
The lower rear fascia close to the exhaust features a massaged design that has three raised cutouts. On the previous car, there was a straight piece of trim. The tail lights, however, look the same as before. They are pronged with a badging that is all covered up by black tape.
The question is why?
A lot of people may wonder why Subaru wants to add anything to what they already have. Since these cars are not expected to handle extreme outdoor activities regularly, why not stick with the current Outback, Crosstrek, and Forester. The cars can already handle some light outdoor world for those who want to go camping, kayaking, and biking. There are also aftermarket additions that can be added to these vehicles to make them more capable of handling the outdoors. Is there really a need to release an entire sub brand?
There are several ways to answer this question. Like most vehicle makers, Subaru is probably taking hints from the current market trends. The brand probably follows influencers and car enthusiasts more than anyone else, since they are in the business. In their ambassador program, they often show displays of more extreme adventures than just regular family car camping trips. This, therefore, suggests that Subaru might just want to come up with better overland vehicles.
Their current cars are just wagons that scream "Take me on an adventure" that demonstrate the real meaning of crossover vehicles, yet none of them are really equipped for that type of work. One can therefore say that Subaru is trying to match in performance what they have already achieved in looks. They want a line of cars that not only look the part but can also meet the requirements for more 'adventurous' journeys.
From the moves they are making, it is almost clear that the automaker is making efforts to meet the needs of their customers who are more interested in Overland vehicles. They have already presented themselves as suitable for the purpose, what's left is to deliver the functionality in their future cars for sale.
We also expect to see a lot of outdoor gear in their auto accessories store to beef up their vehicles. Most Subaru customers hope that there will be a lease turn-in option so that they can exchange their older models for better performers when Subaru finally launches their sub brand.